3/17
Today I changed the thermostat (old one was too weak so car wouldn't warm up properly) and bled the coolant. Most annoying thing ever. 3 bleeder valves, some clear tubing and lots of spilled coolant later, i think corey and I got it. we'll know for sure if i overheat tomorrow lol.

in the next week:
change tranny oil (trying for tomorrow if i can get the filler bolt out)
install stainless clutch line/bleed
3/20
my car is now ready for Circuitcross. Everything I wanted to get done this week is done. Stainless clutch line, Redline MT-90 trans fluid change, thermostat change, and coolant bleed are all done.

BRING IT ON, VIR!!!!

3/24
tonight i was about to leave my house to go to class when...hmm....car wont start. jump the car and start driving. volt meter is weird....turn on the headlights and car dies.....then starts back up again cuz im moving....so i make a bee-line for sears and get a new battery... FOR FREE cuz mine was still under warranty bahaha!

also i must have reinstalled my intercooler/battery tray wrong cuz its squeaking like crazy while im driving lol.

later....

transmission mount died and is now squeaking to hell.
alignment is out (since i changed springs and never realigned it) so my rear tires are wearing on the outside bad
still need a windshield....aiming for Friday morning.
3/25
ordered one. though now im not 100% sure its the tranny mount....there are so many things it could be but given that i have 2 mounts with urethane inserts, one new side mount....the other should probably be replaced too.
as for working in an alignment shop.....i wouldnt want to get my car aligned at sears.....noooooo way.

later....

it wasnt my motor mount. it was this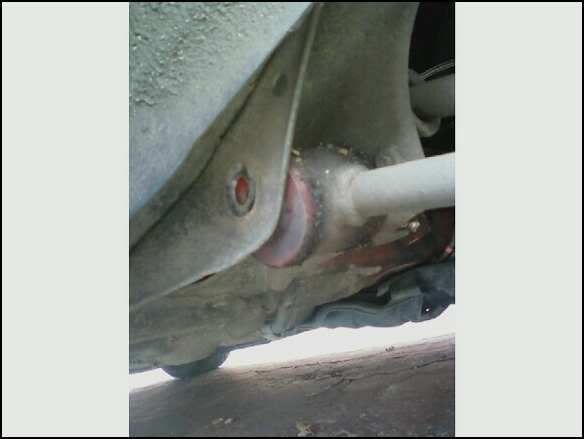 fixed with a bolt from my parts car. that thing has come in handy from time to time.

also getting a new windshield tomorrow morning courtesy of Chey because he rocks my socks.

also put my other wheels on the back (205 all seasons)

3/26
New windshield is in. W00t

3/28
so tired. long day. circuitcross was amazing. driving on a road course is just so....... its just awesome. much better than autocross thats for sure.

long story short my car is stranded at a truck stop out in Burkeville or some crap cuz its dead.
basically one or more of the following is wrong:
alternator, positive cable, negative cable, (i know the fusible link wire is broken), or grounds.

ill make a post about how my day went later. im too tired/angry right now.

3/29
car is home safe and sound.

My best time I got on VIR Patriot Course was a 61.3

heres a list of cars I beat:
Impreza 2.5 RS (early 2000's)
Ford Focus
240SX (S13)
Volvo S60R
Miata (NB)
Mazdaspeed Miata
Jetta 1.8T
280Z
BMW 325is
Mini Cooper S
RX-7 (FC nonturbo)
Impreza WRX

Cars I lost to:
Ariel Atom3
Mustang Cobra (mid 90's)
STi's
Evo's
Vette's
Cayman S
Mini Cooper S (wayyyy not stock)
S14 Kouki (wayyyy not stock, turbo'd)
S2000's
Civics (track-ready, stripped, caged, at least one was turbo'd)
M3
Supra Turbo (MK3 wayyyy not stock)
Crossfire SRT-6

link to raw results:
http://www.get-fast.net/nasacross/032810res.htm

3/30
I've decided on what I'm gonna do for tires this season. On my gray wheels, I'm gonna use the cheap Kumho Ecsta AST's in 195/50/15 for daily driving, and nice Kumho Ecsta XS on my ugly (but wider) silver wheels in 205/50/15 for autocross/track.

4/1
once i get my car running these are next on the list:
TRU redesigned rear tie rods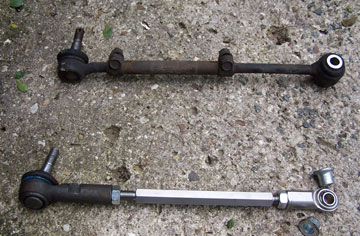 and
better rear end links
also these are my tire options for track: Kumho Ecsta XS or Bridgestone Potenza RE-11...which should i chose?


4/4
charging problems remain random. i noticed my alternator belt looks quite shiny, which i thought was weird. is it possible its slipping without making noise?

4/6
ordered an alternator. gonna look into a belt as well.

4/9
alternator is in....that was AWFUL. electical seems great but now my oil pressure gauge says....nothing. though i know it has pressure because my dipstick reads full, engine sounds fine, and there is oil on the inside of the filler cap. soooo.....yea.... dont really know whats goin on there.....

4/10
its the
oil sending unit sensor thingy (not mine just a pic from the OC)
apparently it was this wire that i broke.
4/11
Pierce found a GORGEOUS 89 hardtop na base model at CAP. The body is near perfect, as is the interior. I got the hood, both front fenders, the LED spoiler, and a few other little things. These will eventually be painted black and replace whats on my car now. YAY now I have no money lol

4/17
New hood is painted and installed. I did the headlight covers too, but i didnt wetsand them so they didnt come out as good so I might resand and repaint them. next on the paint list: fenders, bumper, front lip, front valances . Also I ordered TwosRUs redesigned rear tie rods .
when those come in I'll get an alignment to TRD Stage 1 specs.
After all that... I'll be poor. THEN I'll work on getting tires. At this rate my car will be aligned with race tires by................September?
4/22
so pretty